KIRKPATRICK
COWBOY LEATHER GUN HOLSTERS
The best leather holsters for your favorite Single Action and Double Action Wheel guns.
KIRKPATRICK
1911 LEATHERHOLSTERS
Premium  IWB , OWB and Shoulder holsters for every day carry of your favorite 1911.
KIRKPATRICK
CUSTOM LEATHERHOLSTERS
Custom made leather holsters for Sig Sauer, Glock, 1911 and most revolvers.
Making the best leather holsters for 70 years.
This year we are celebrating our 70th year of making custom leather.  Since 1950, Kirkpatrick Leather Company has been one of the world's best leather holster makers.  Our catalog features leather holsters made in Texas by skilled artisans and professionals.  After all of this time, we still make our products one at time and we use only American leather.  If you are looking for the perfect way to carry a gun, buy a Kirkpatrick Leather holster and see why we are still the best after 70 years.
"Very good craftsmanship. A splendid looking gun rig. Thank you Kirkpatrick for a quality holster and belt."
"The fit and quality of the Shoulder Holster is absolutely awesome!!! The Shoulder Holster fit my Kimber perfectly and I am very pleased."
"My double rig holster arrived today. It is beautiful, great workmanship it is just what I expected."
"I received my rig today and it is beautiful. Thank you and your crew for such great craftsmanship. I'll use it for a long time to come."
"I just received the holster for my Sig P210... It is perfect! I will be back for more of your excellent quality products"
The best leather holster makers love guns too...
At Kirkpatrick we make great leather holsters because, like you, we love shooting.  We are gun owners, gun collectors, shooters and hunters.  Our company and our staff are proud to enjoy our 2nd amendment in every way we can.   Whether its every day carry of a gun, competing in IDPA and Cowboy Action matches or hunting, we use the products we make with our favorite guns.  
We are proud Texas gun owners and card carrying license holders.  We carry guns in our leather holsters every day.  We shoot Cowboy Action matches wearing our western gunleather and we use our hunting holsters when we're at the ranch.
When you buy from us you're getting 70 years of leather making experience coupled with many years of firearms experience. There are a lot of great leather makers too choose from and we appreciate every customer we get.  So, when we make a leather gun holster for you, we make it like it was for one of us.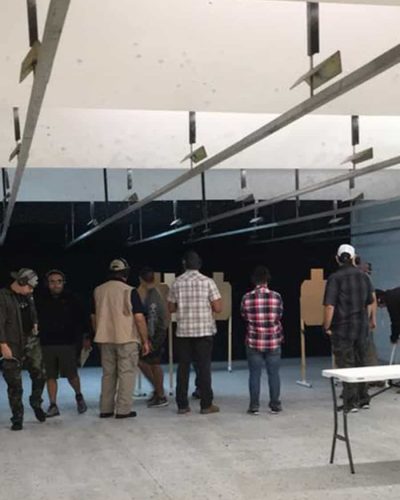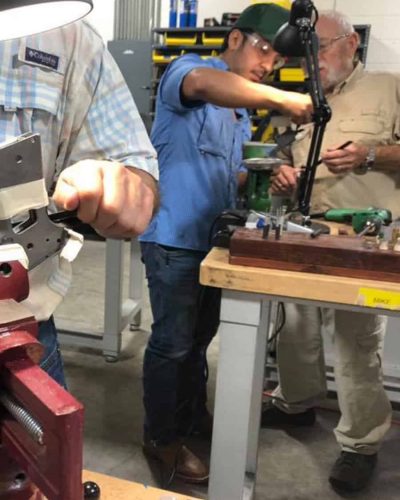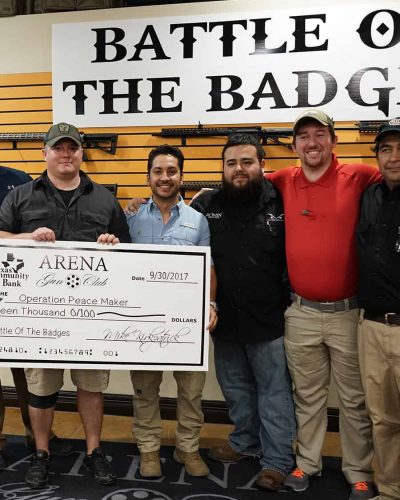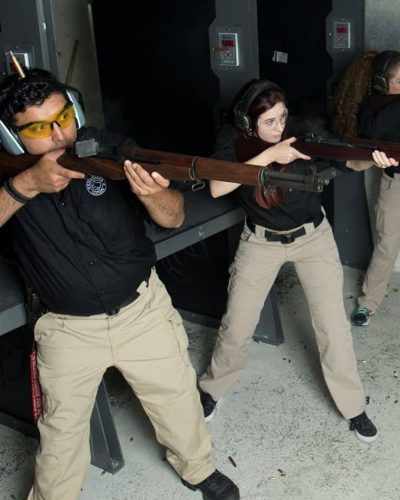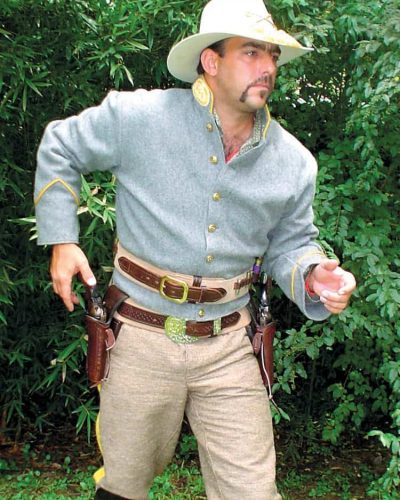 Kirkpatrick Leather holsters are proudly made in the USA.
Kirkpatrick Leather Company has been making custom leather holsters since 1950.  Over the last 70 years we've earned our reputation of being one of the best makers in America.  We are proud to say our products are still made in the USA.  Our custom leather is still made one at a time using American leather with the same traditional methods we started with.  True custom leather holster makers, our business is built around the simple idea that to make the best leather gun holsters you need to use the best materials and practices without taking any shortcuts.  Our goal is to make custom holsters that work.  That last.  That are beautiful.  And that are made in the USA.
Leather gun holsters that work.
At Kirkpatrick Leather we custom make leather gun holsters that provide a safe and comfortable way to conceal carry your favorite handgun.  Our concealed carry designs secure your firearm while still providing instant access when needed.  Created with low profile designs and custom features, our leather help hide your firearm while still delivering full positive access to the grip.  We accomplish this by incorporating thoughtful designs perfected over the years.  Like using two attachment points so your gun securely mounts on the belt and keeps it in place without shifting.  Contouring the holster so it lays flat on the body for comfort and remains open to make re-holstering easy. 
Quality leather holsters that are made to last.
In order to make sure our products provide you with years of worry-free service, we use only the best materials available.  We never try to save money at the expense of quality.  Our leather holsters are made using only the finest American leather. They are sewn using seven cord bonded nylon thread on the heavy-duty sewing machines and are double stitched in all critical areas to make sure they last.  And wherever needed we only use the best hardware from established vendors here in the USA. 
Beautiful leather gun holsters
Premium leather gun holsters should be as beautiful as they are functional.  They should be aesthetically pleasing and add beauty to your every day carry gun.  Our custom leather holsters are no exception.  When making our holsters we pay attention to every detail to make sure it is something you will be proud to wear and even show off.  We start by cutting from the best part if the hide.  We hand dye it in our shop to ensure a rich deep color that will accent your firearm.  Once made, we hand mold and form the holster to your specific gun.  With focus on making sure it has a proper fit but is also visually pleasing.  The edges are sanded and then hand burnished to a smooth glossy finish.  This not only looks good but it also prevents moisture from entering the edges of the leather.  Our leather gun holsters are then polished and a clear coating is applied to protect the finish.  Kirkpatrick custom leather holsters are created to be a beautiful addition to your gun collection.